Vacation Rentals
3 Bedroom/2.5 Bath End Units
We have the best vacation rentals directly on the beach at Coronado Towers. All of our condos have gorgeous direct ocean views. See the picture from the balcony for each condo listed below.
The rentals on this page are all 3 bedroom / 2.5 bath units located on north corner of each floor. They have more floor space than the 2/2 units as well as an additional bedroom and powder room. The first web page has 2 bedroom / 2 bath units that are located in the center of the building. The second rental web page has 2 bedroom / 2 bath units that are located on one end of the building. They are slightly bigger than the center units and have additional windows.
The vacation condos are displayed below. Each unit is individually owned. Furnishings, cost and availability vary per unit. Click on any unit's picture for more information and pictures. We make every effort to make sure that the information is accurate and current but as all units are privately owned Coronado Towers makes no warranties of conditions, express or implied, it is your responsibility to verify the information at the time of rental.
Unit 705
Condo Features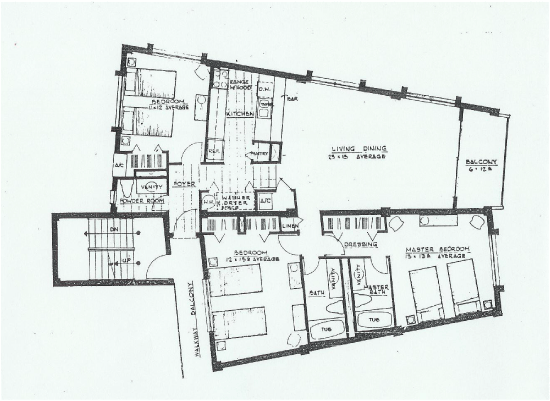 Click on the image to enlarge it.
Above is the floor plan for the 3 bedroom / 2.5 bath end units. Each unit has 1432 square feet of living space with windows looking out at the beach. In addition, there is a private balcony located off of the living room that overlooks the beach and the pool. Windows on the side of the unit look north towards Daytona Beach and the inlet.
Each unit sleeps a maximum of 8 guests.
All units include the following standard features:
Fully Equipped Kitchen
Fully Stocked Linen Closet
Full Sized Washer & Dryer in Unit
Free Cable Television
Heated Pool
On-Site Barbecue Grill
Smoke-free Accommodations
Central Air & Heat
One Reserved Parking Spot
Manager On Site